New Families First Act Covers Household Employers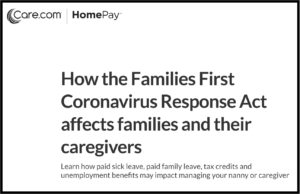 Our sister company, HomePay, recently posted information on the new Families First Coronavirus Response Act on its website. Here is a link. We encourage all families to read this post by HomePay in order to understand their obligations under this new law.
From the blog post:
On March 18, 2020, the President signed the Families First Act to help employers and their employees deal with the personal and financial strain associated with the novel coronavirus disease (COVID-19). The new law took effect on April 1 and does cover household employers. However, the Department of Labor has the discretion to exempt businesses with under 50 employees if the business can demonstrate that the new requirements would jeopardize its viability. [Emphasis added]
Read the full blog post here, and read the U.S. Department of Labor web page on the new law here.
While Town + Country is unfortunately not in a position to provide legal advice to our candidates or clients, we do understand that this new law is likely to be confusing. For clients who currently have household employees, we encourage you to contact HomePay at 888-273-3356, or speak directly with your own attorney.