Mother's Day Ideas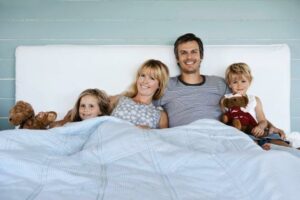 According to History.com, the idea for a "Mother's Day" is credited by some to Julia Ward Howe (1872) and by others to Anna Jarvis (1907), both of whom suggested a holiday dedicated to a day of peace. President Wilson eventually signed a measure officially recognizing Mother's Day as an official holiday to be celebrated on the second Sunday of every May.
If you're stumped on how to celebrate our nation's official 105th year of Mother's Day, here are some ideas to get you started:
Crafts and Sentimental Gifts:
A painted picture frame. It's a tried and true gift! Moms and grandmas love to display these at their office, on bookshelves or even on their nightstand.

A grateful jar

. Have your children write down, or dictate to you, what they are grateful for about their mother or grandmother.

Write a personal note thanking mom for her sacrifices. Even in a store-bought card. Moms save these for a lifetime! And it is nice to see that children start to grasp the scope of all mom does for them.

Make a calendar or coffee mug with pictures of the family

Handprint art. How could you go wrong?

Mommy-and-me dates! As a gift to mom, have each child pick an activity they would like to do with just mom. It could be a day at the zoo, a mani-pedi, a trip to a museum, movie or just lunch. Then think of ways you can help to make it happen. Maybe it means making the reservation or offering to take care of the other children while mom is out! It's easy to overlook quality one-on-one time when you have multiple children, but developing a personal connection with each child individually is so important.

In a post-Marie Kondo world, instead of searching for things to buy for mom and grandma, opt for experiences. A weekend away with her own mom, sister or her best friends might be a great retreat! Or take the whole family on a long weekend to a new destination.

Remember, a new dishwasher or washing machine, unless she has explicitly stated that she would like one, is not a gift for mom, it is for the family!
Special Mother's Day Brunch. The National Restaurant Association reports that Mother's Day is the most popular day of the year for dining out, and for good reason. Mom deserves a nice meal out! You could either make a reservation at her favorite restaurant or make her brunch at home. If you have young children, it might be easier and more relaxing for mom if you eat brunch at home. Here are a few sample menus:
Toasted Acme Bread with Lox and Schmear

Top with capers, thinly sliced red onion and micro greens for a fancy finish

Fruit and Greek Yogurt Parfait
And a Blood Orange Mimosa
OR
Fruit Salad
And a Bloody Mary
OR
Turkey Bacon
And a Coffee
In order to have the best Mother's Day brunch at home, it's about more than just the food. Here are a few things to keep in mind:
If mom is an early riser, ask her to leave the house, or at least kitchen, for a bit while you set up. Encourage her to go on a walk, get a coffee by herself, hole up in the master and catch up on her favorite TV show, sit in the backyard or patio and read a book. If she would like, she can take the children to a local play structure. The most important thing here is that you ask her what she wants to do! She might like time to herself or she might enjoy spending time with her kiddos while you make the family breakfast. Let her decide!
Breakfast in bed is nice but dining outside on a patio table with the morning sun and birds chirping is nice too, as is having a PJ party around the kitchen table and dressing in Sunday's best around a formal dining room table. Think about what is best for your family and go from there! Involve the children where you can. Obviously, little ones shouldn't be slicing an onion, but they can fold napkins, set the table, make a flower arrangement and make place cards for the table.  

After brunch is over, the most important thing – and I cannot stress this enough –

you

have to clean up the kitchen and dishes, in compliance with mom's standards! Send mom back out to do whatever she wants while you and the children clean up! Honestly, this part is way more important than the breakfast. Having a meal prepared is nice, but if she has to come back and clean up after you, it will not feel like a special and luxurious treat.
Now that brunch is over, ask mom how she would like to spend the day. Maybe a bike ride around town, or a walk to the farmers' market or the chance to spend the day by herself to recharge. Offer a few options so she knows you put thought into it, but let her decide what she would like to do!  
The key to any great celebration is communication. Checking in with mom, and grandma, to see what they would like out of the day is key! Remember that this is a celebration for her and not Instagram or Facebook, don't hold yourself to the standards of what is popular and expected, do what is best for her and your family!
And to all the Mothers out there, we hope your day is as special as you. Mothers' Day really can't be summed up in one day of a celebration, but we hope your families got close!